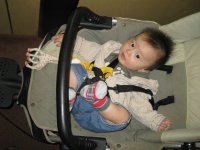 「タカラ」はミドルネームなので、英国では99%「オリバー」として生活している。ところが、

ベイビーマッサージに参加していた男児が全員オリバーで驚いた事もあったし、

その後も「オリバーくん」にはよく会うと思っていたら、2006年の赤ちゃんの名前ランキングの第5位だって!


予定日過ぎても名前が決まらず、慌てて決めたことは確か。でも、ありふれた名前にはしたくないと思っていたのに、なんで~。アラタを妊娠中、女の子だったら「サクラ」ちゃんにするつもりだった。ちょっと古風で、今時ありがちな、振り仮名がないと読めない名前でもなくて最高だと。ところが、「サクラ」はその年の名前ランキングの1位でした。


相談したわけでもないのに、なんでみんな同じ事を考えるのか、とても不思議・・・。


英国2006年男の子の名前ランキングは、1 ジャック 6,928, 2 モハメッド 5,991, 3 トーマス 5,921, 4 ジョシュア 5,808, 5 オリバー 5,208

(20位までのランキング。)


Takara is recognised as 'Oliver' in everyday life.

As I wrote before, when I took him to a baby massage class, I was quite surprised to know that all the boys were 'Oliver'.

We often come across another 'Oliver' as well. We've recently found that 'Oliver' is the 5th popular boy's name in 2006. No wonder....

We were a bit running out of time to choose Takara's name. In fact, we didn't know how he would be called even after his due date. We preferred to choose not so common name. When I was pregnant with Arata, I was thinking about "Sakura" if the baby was a girl. It means cherry blossom. A bit traditional and not too wild name, considering the fact lots of Japanese parents give their children a name we can't even read. But surprisingly, "Sakura" was the number 1 in the girls name ranking in 2004!


I wonder why lots of us choose the same name......


The most popular names for baby boys in 2006


1 Jack 6,928, 2 Muhammad (all spellings) 5,991, 3 Thomas 5,921, 4 Joshua 5,808, 5 Oliver 5,208, 6 Harry 5,006, 7 James 4,783, 8 William 4,327, 9 Samuel 4,320, 10 Daniel 4,303, 11 Charlie 4,178, 12 Benjamin 3,778, 13 Joseph 3,755, 14 Callum 3,517, 15 George 3,386, 16 Jake 3,353, 17 Alfie 3,194, 18 Luke 3,108,19 Matthew 3,043, 20 Ethan 3,020

(From this article.)