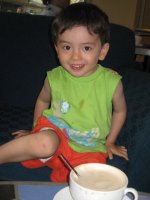 ここ数週間、ダブルバギーがパンクし続けているから、シングルバギーにタカラを乗せて押しながら、アラタの手をつないで外出。歩くのが少し遅いから、急いでいる時には私がイライラするのを除いて、不便を感じない。昼寝をしない子だし、もうバギーは必要ないようだ。


バギーに座っていないので、アラタは買い物に積極的に参加する。商品をカゴに入れたり、会計時にコンベアにカゴの中身を出したり、買い物袋を持って歩いたり。帰り道にアラタは「カフェに行こう」と必ず言う。そのまま走ってスターバックスに着くと、振り返りもせずに店内になだれこみ、椅子に座って私を待っている。


ラズベリーフラッペが彼のお気に入りで、「ママとシェアしない」と頑固なので、「これ、誰が買った?」「ママが買った」「でしょ、ママも飲む」という会話(脅し?)が毎回繰り返される。


たった数ヶ月前までは、買い物やカフェにアラタを連れて行くのは大変だった。じっとしていなくて、何処かへ行っちゃうから落ち着いていられずストレスだったから。今はアラタと楽しくお出かけ。


そうそう、髪の毛を床屋さんに切ってもらうのも以前ほど騒がなくなった。こんなに短くなっちゃったけど。


As our Phil and Ted buggy has kept flat tires, we go out with only a single buggy. With one hand, I push the buggy and with another hand, I hold Arata's hand. Except for my occasional frustrations, when we are in a hurry Arata seems to walk too slowly, I don't find it inconvenient. Arata hasn't had a nap during day and he probably doesn't need a buggy any more.


Because Arata is not strapped to the buggy, he helps my shopping. He puts stuff into the shopping basket and takes them out onto the conveyor at the casher. He sometimes carries a light shopping bag. On our way home, Arata always says, "Let's go to the cafe." Then he runs towards Starbuks and without looking back at us, he gets in ans sits at a table waiting for us.


Arata's favourite is raspberry frappe. He always insists that he doesn't want to 'share' it with me. I ask him, "Who bought this frappe?" and Arata says, "Mama did" so I go, "See, I will have some!" Every time, we have this conversation (threatening?)....


Until only a couple of months ago, it was stressful to go out with Arata. He would run away quickly and I always had to chase after him. But now, it's quite fun to go out with him.


By the way, Arata didn't cry as much as before when he had his hair cut. He was sitting on his own and let his hair cut although he cried a bit.