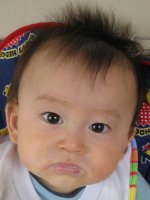 今朝、アラタがナーサリーへ行く時に「バイバイ」と手を振ると、タカラも両手をあげて振り返した。あら、いつの間に出来るの?と、何度も今日は「練習」させられたから、招き猫のようだけれども、片手のバイバイもできるようになった。


はいはいでどこでも移動できるようになると、ちょっとした所に上るようになってきた。暑いから窓は開けっ放しなので、バルコニーへ続く窓枠に上って、でも足から降りられないから、頭からダイブしそうで何度はらはらしたことか。この調子だとそのうち落ちる。


タカラを布団に寝かしておけば、目が覚めた時に自分で這い出して来る。ただし、夜やられるのは怖い。こっちがテレビでも見ながらくつろいでいると、寝ているはずのタカラがいきなりそこにいるんだもの。この写真は、あまり好きでないものを食べさせられた時のタカラの表情。


This morning, Takara waved 'bye bye' to Arata when he left for nursery. Well, with both hands. Towards the end of the day, Takara was able to wave with only one hand, as I asked him to wave lots of times.


Takara is really mobile now. He has even started to climb up a step. We've kept the doors to the balcony open in the last few days and we've rescued him from falling to the balcony on his head a couple of times just in the nick of time. He can't climb down by himself. He is going to fall at least once...


Takara also sometimes gets up and crawls to the sitting room from the bedroom without our help. It's very good! But when he does this when we are relaxing in the sitting room after he once goes to bed at night, we feel frightened! He should not be there, but he is! Look at Takara's expression in this photo. He is tasting a new food for a first time.