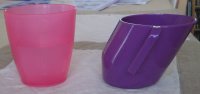 タカラの8ヶ月検診(ヘルスビジターと)。発達テストは小さい積み木を左手から右手に持ち変える事ができるか。プラスいくつか問診をして、ブックスタートの本を数冊もらった。


もう少し離乳食を進めてくださいと言われた。アラタの時は段階的に離乳食を進めていたが、今は、あっという間に一日が終わるから考える暇もなく、未だにピューレに近いものを一日二回しかあげていなかった。

(きゃー、アラタは36週でもうベイビーパスタなんて食べてる!!)

三回食にして、家族と同じものを(つぶして)食べさせてもよいし、フィンガーフードも混ぜ、自分で食べる練習を始めてみるのもいいと言われた。


また、6ヶ月頃からオープンカップを慣らしていけるので、母乳育児の赤ちゃんは、ボトルや赤ちゃん用カップを準備しなくても、おっぱいからいきなりカップに移行できると言われた。飲み口が斜めになっているカップをもらった。(写真の紫のカップ)


Takara's 8 month check-up with health visitor. He was tested if he could pass a small block from his left hand to the right. I was asked a couple of questions, whether he could pull himself up or crawl or clap hands etc. Then she gave us a BOOKSATRT bag with a couple of books.


I was told to proceed further on weaning, 3 meals a day with more lumpy food. I was planning more carefully when Arata was weaning but I have no time to think about it now. Takara still eats only twice a day and I still give him lots of pureed food.

(Arata was already eating baby pasta at 36 weeks!)



He can eat family food, and we can also introduce some finger food for him to eat by himself.


She told me that breast fed babies can go straight from breast to cup, without experiencing bottles or beakers. Cups can be introduced at 6 months old. She gave us this purple cup.