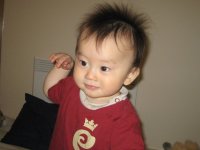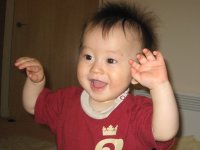 タカラの招き猫のようなバイバイ、相変わらず両手だったり片手だったり。

記念にビデオに収めてみました。

数日前には、振りながら「ババイ」と言ってた。


アラタが同じぐらいの月齢の時は、カフェやレストランで、わざとスプーンを落としたりして、若いお姉さんの気を引いていた。タカラは、ニコニコしながら手をふって、Jason曰く、「ナンパ」している。


タカラは金曜日の明け方から39度程の熱が出ていたが昨日の夕方にやっと回復。熱でふらふらしているそんな時に、おもちゃ箱のふたを自分で閉めて、落ちてきたふたで右目の下を切った。目から出血したと思いJasonがStPeter'sのA&Eへ連れて行った。実際は目のふちを切って涙に血が混ざっていただけだったが、びっくりした~。


Takara's 'bye-bye' is still sometimes with both hands and it's very cute.

(Have a look at this video clip!)

A couple of days ago, he clearly said, "Ba-bye!" as well.


When Arata was about the same age, he often dropped a toy or spoon deliberately to draw attentions of young women. (It's called "Nampa" in Japanese.) Takara also tries to do the same by waving his hands with a big smile on his face!


From Friday morning, Takara had a temperature of about 39C. He recovered last night but when he still had a bit of temperature, he cut the underneath of his right eye with the lid of a big toy box. It looked as if blood was coming from his eye and Jason took him to the A&E at St Peter's. In fact, some blood got into his eye and came out with his tear but we were so shocked to see that.