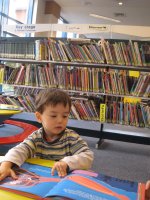 アラタは、買い物の後、相変わらず「カフェにいこう」とスターバックスに誘う。そして、フラッペを飲みながらくつろいでいると、「としょかんにいこーね~」と目を輝かせて言う。


サリー州では5歳以下の子供の

図書館カードはメイジーちゃんの図柄入り。

ブックスタートの一環で、本を借りるとシールをもらえるので、アラタも台紙に貼って集めている。自分の背より高い貸し出しカウンターに本とカードを背伸びして置く。係のおばさんは、アラタの姿が見えないのでいつもびっくり。


After shopping, when we are relaxing over frappcino at Starbucks, Arata often says, "Let's go to the library" with his eyes wide open from excitement.


In Surrey, under 5 years get

a library card with Maisy's print on it.

As a part of Bookstart project, they are also encouraged to come to library. They can collect stickers each time they borrow a book. Arata of course loves collecting them. When he goes to the check-out counter, he puts a book and his card to the desk which is higher than his hight. The librarian behind the counter can't see him at all and always gets surprised.