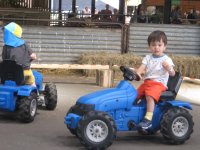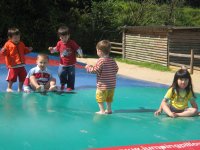 Coignチャーチのプレイグループで

Bocketts Farm Park

でピクニック。ファームアニマル(家畜)の動物園+充実したプレイグラウンドという印象。屋内でも屋外でも楽しめるようにできていて、動物に触ったり。ピッグレースを見たり、ポニーライディングしたり。屋外のプレイグラウンドも、屋内のソフトプレイエリアもあって、乗り物遊びやトランポリンもできる。(みんなが写っているのは「ジャンピングピロー」の上。)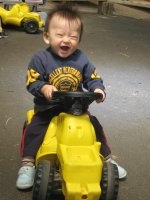 まなちゃんやトーマは手の上にえさをおいて、羊に食べさせたりできるけど、アラタは怖がって、床の上にまいていた。そして、特に動物に興味を示さず、遊具遊びだけに徹底。スコールのような激しい雨が降って、水溜りが出来ると、泥んこになって遊んでいたので、みんな最後は、オムツだけで走り回っていた。ティールームもある。今度は家族で行こう。


We went to

Bocketts Farm Park

with Coign church toddlers group. It's a mixture zoo (of farm animal) and big play ground. It's designed for us to be able to enjoy both indoor and outdoor. We can touch animals, watch pig races, try pony riding etc. There are loads of outdoor play ground equipment including several Trampolines.


Mana or Thoma can let lambs eat pellets from their palms but Arata looked a bit scared. He scattered them on the floor! He didn't take any interest in animals but he was enjoying riding on pedal tractor or playing outside. Children all liked playing on the Jumping Pillow. (See the photo.)


We had a couple of squally shower. They all loved playing in big puddles and getting soaking wet. In the end, they were running around with only nappies on! They have a nice looking tea room as well. We should go there again with daddy next time.