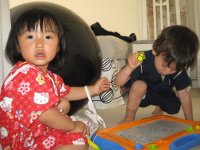 ハナちゃんに妹のナゴちゃん

が生まれたので一目見にイーリングまで。この姉妹、ハナ(英)ちゃん、ナゴミ(和)ちゃんという、羨ましいほど素敵なネーミング!


予測通り、ハナちゃんとアラタは全く一緒に遊ばない。ハナちゃんがちょっかいだしても、アラタは無視!目も合わせないで、黙々と一人遊び。なーんて失礼な態度!対照的にタカラはニコニコ愛想がいい。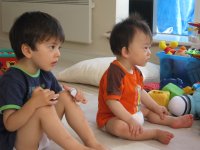 align='right'>

りつこさんは二人の女の子のママになり、私は男の子二人の母。一人交換しよっかなーんて話しにもなっちゃうけど、じゃあ、あと10歳若ければ女の子がほしいからもう一人産むかって?20歳若くても絶対にいらなーい。二人でも十分大変です。(2枚目はアラタカラが一緒にテレビを見ている写真。)


We went to Ealing to see

Hanna and her new born sister Nagomi.

Their parents have given them really lovely names, Hanna - using a Japanese Kanji with a meaning of England, and Nagomi - Kanji with a meaning of Japan.


As usual Hanna and Arata, 2 two-year olds, didn't play together. Hanna often tried to touch Arata but he ignored her. He didn't even make any eye contacts with her. How rude he was! On contrary, Takara was always smiley and friendly to everyone.


Hanna's mum Ritsuko has become a mother of 2 girls and I am a mother of 2 boys. We were jokingly talking about exchanging one of our children, to be a mother of one each sex. If I was 10 years younger, would we try another child to have a girl? Definitely no! Even if I were 20 years younger, I would not go for it! 2 is more than enough. (In the second photo, Aratakara were watching TV together.)