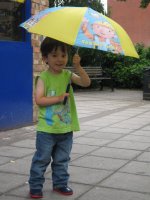 まなちゃんやりりちゃんが傘を持っているのを見て、アラタもほしがっていたので買ってあげた。


典型的なイギリスのしとしと雨ぐらいでは英国人は傘はささない。降ったり止んだりするので、傘を持っているほうが面倒くさいから、私ですら家を出る時にざーざー降っていない限り傘無しでしのぐ。だから、もちろん、アラタぐらいの子供が傘を持っている姿は目にしない。たいていはレインコート止まりだ。


雨が待ち遠しいから、降っていなくても傘を持って出かけるアラタは、ここ数日、長靴しかはかない。きちんと自分でコーディネイトしているようだ。


Since Arata saw Mana and Lilia using their umbrellas, he wanted to have his own. Now he's got one.


Unlike in Japan, a lot of people here don't use umbrellas unless rain is quite strong. The rain here is usually not as hard as it is in Japan and probably if you are so sensitive to go out with umbrella, you'd have to take one every day. Even I don't take an umbrella when I go out, even when the sky looks very dark, unless it's already raining when I leave home. Naturally, you don't see children Arata's age holding an umbrella. They are in rain coat at best if rain is hard. That's why Arata stands out when he walks slowly with his umbrella carefully held up by his both hands.


Arata is looking forward to rain, and he insists to take his umbrella whenever we go out. In the last couple of days, he only wears gumboots as well. He seems to try to coordinate his 'fashion'.