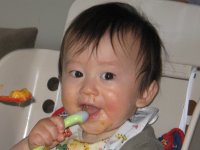 アラタはよくしゃべる。「~~だから、~~~でしょ」とか「~~したり、~~してね、~~じゃん」と、尽きる事がない、そしてばっちり埼玉弁。最近は英語と日本語という二つの言語の存在がわかってきたので、「日本語ではカメで、英語ではタートル」なんてナマイキな発言もする。


今週末から、Jasonの従兄で英国在住のデービット一家と、ニュージーランドからやってくるティナ(デービットのお姉さん)の家族と、ウエールズへホリデーに行く。6寝室あるマナーハウス(昔の貴族の館)を一週間借り切るのだ。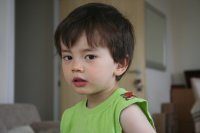 その話しをしていたら、アラタは、「ウエール(=くじら)どこに見に行くの?」とか「まなちゃんのおうちに行くの?」だって。もう一度説明したら、「まなちゃん、今、日本行ってるからね。アラタ、マナーハウスにくじら見に行く。」に改善された。くじらが見れなかったらがっかりするんだろうなあ・・・。


Arata is a real chatterbox. Often he doesn't stop talking. He goes, "..., then, ..., isn't it?" or "you know, ..., and ..., right?" etc, in Japanese. Well, I have to say that his Japanese is with a bit of "Saitama", the area I am from, dialect. It's not a proper dialect because Saitama is close to Tokyo and we regard our speaking as "standard Japanese". But the endings of the sentences sometimes have some unique tags and Arata speaks with them!


Arata now sort of knows that 2 different languages exist. He sometimes speaks English to Jason but never does so to me. Today he was saying in Japanese, "In Japanese, it's 'Kame', and in English, it's 'Turtle'". He is getting cheekier!


We are going to Wales for holiday from this weekend. We go there with Jason's cousin David's family, who live in England, and David's sister Tina's family, who are coming from New Zealand. We are staying at a manor house.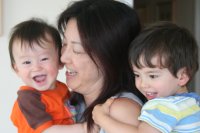 When Arata overheard our conversation, he started to say, "Where are we going to see whales?" then "Are we going to Mana's house?" After I gave him a better explanation, it sounded like he understood better. He said, "Mana chan is now in Japan," (it's true, he can remember that Mana is in Japan at the moment), "Arata is going to manor house to see whales." I think he will be very disappointed if he can't see any whales...