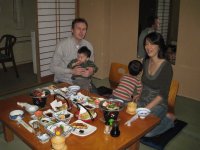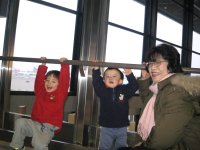 成田に前泊、月曜日に帰って来た。今回は温泉に行けなかったので最後の夜は大浴場のある旅館にみんなで泊まる予定だった。ところが、アラタカラ、Jasonに続き、父まで風邪で倒れたため両親は不参加。


アラタが経由地のアムステルダムまでの12時間のフライトで寝たのは最後の30分だけ。それでも、大人しく本やシールブックで遊んでいたからいいけれども、タカラは昼寝以外は機内を走り回り、同じようにぐるぐる回っているお友達と意気投合。ばったりと会うたびにキャーと興奮し合うからママ達は「すみません・・・」と謝りながら後を追う。


乗り換えの待ち時間の間、日本時間では夜中の2時頃なのに、子供達はハイテンション。まあ、ロンドン行きに乗り込んだ瞬間に、私までも爆睡しましたが。家に到着したのは8時半だから、日本はもう夜明けだよ。よく起きていたなぁ君達!翌日からは仕事とナーサリーでみんな普通の生活に戻ったが、しばらくは夜になると、子供達と一緒に私達も着替えもせずに寝てました。


We stayed in a Ryokan, Japanese style inn, in front of Narita shrine, one day before coming back to the U.K. During our stay in Japan, we didn't have time to go to hot spring and we were all going to stay in Ryokan with big bathes for the very last night. But after Aratakara and Jason, my dad came down with flu and my parents had to cancel it.


To Amsterdam, where we did transit, Arata only slept in the last 30 minutes. It was about 12 hour flight and that means he was up until about midnight in Japanese time. Well, Arata played with a couple of sticker books and behaved well. On the contrary, Takara was really a problem for me. Except for his nap, he kept walking in the airplane, making noises especially when he bumped into another 1 year old boy who was also walking around. We mothers kept saying "sorry" to everyone who seemed to be annoyed with the noisy little toddlers.


In Amsterdam, we had 3 hours before catching the flight back to London. It was already after midnight Japan time but Aratakara were really active and as soon as we got on board, they, and me as well, crashed out. When we got home after 8 pm, it was already dawn in Japan... On the following day, I went back to work and kids were back to nursery. In the first week, Jason and I went to bed with children, although we didn't intend to do so, though.