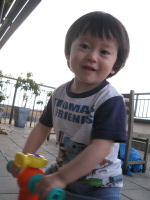 タカラは、他の人の言葉を繰り返すことが上手になってきて、言葉が増えてきた。「マイン!(僕の!)」「モア(何かがほしい時)」「ゴーゴー(行こう!)」「ハロー」「カンパー(乾杯!)」「(いた)だきまーっ(す)」「(た)だいまー」「(開)けて!」「(行っ)ちゃった」「(熱)っい」「(う)んち」・・・・。なぜか頭の音が消えるのがタカラの特徴。「ばっちゃん」や「じっちゃん」とほぼ正確に言える。アラタはおばあちゃんのことを「ばっぽん」って言ってた。


ちょっと前までお気に入りだったタカラ語の「パックンママ」はいつの間にか「ココバーバ」に取って代わられた。これも何かほしい時。いったい何語が語源??


この間、「なかざとたからくーん!」に手を上げて「ハーイ」と応えるように教えた。すると「おっぱい飲みたい子~?」に、ニコニコと手を上げて「ハーイ!」と早速応用していた。


アラタの時は寝る前に頑張って本を読んであげていたが、タカラにはほとんどやっていなかった。でも、最近本に興味を持ってきて、自分で本を選んできて読んでくれとせがむ。Jasonがアラタに読み聞かせするのが習慣になっているので、タカラもいい影響を受けているのだろう。


タカラのお気に入りは、去年日本のブックスタートでもらった『じゃあじゃあびりびり』。踏み切りの「カンカンカンカン」や「ビリビリビリ」を一緒に言うのが楽しいみたい。『おむすびころりん』の「(おむすびころりん)すっとんとん」の音も気に入っていて、「っとんとーん!」と叫んでいる。


Takara picks up new words every day. His English vocabulary includes, "More", "Mine!", "Go go", "Hello!", "Gone". And Japanese words are "Cheers!", "Open it!", "We are home!", "It's gone", "Hot", "Poo", "Grandma", "Granddad"... He used to say "Pakkun mama" when he wanted something but now he says "Koko baba" instead. It's Takara's own language. We don't know where it's from.


I taught him to say "Haai! (Yes!)" raising his hand when I ask "(Where is) Nakazato Takara kun?" Takara now says, "Haai" with his hand up when I ask "Who wants mummy's breasts?"


I made an effort to read books at bedtime when Arata was at Takara's age. But I haven't done much for Takara. Well, Takara has started to bring a book and ask me to read it. It's a good influence from Arata, I think, because Jason always reads a book or two from library for Arata. Takara likes some of the sounds of the lines and he repeats them with me. He especially likes "Kan kan kan kan", crossing sound, "Biri Biri Biri" tearing paper sound and "(Sut)tonton!", sound of a rice ball dropping down in a hole.