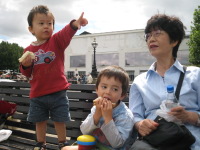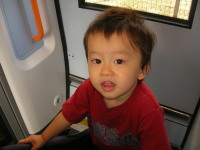 母はアラタが生まれてから数回渡英しているが、それ以前は1996年に私がロンドンで働き始めて以来8年もの間、(父も含めて、)一度も来なかった。特に英国に興味はないし、日本での趣味や仕事が忙しすぎるということが理由だが、友達の親に比べると個人主義でドライな私の家族。


ここ4年弱の間は、アラタカラの出産の手伝いなどで総滞在日数も長いのだが、子供が小さかった事もありし、観光にはほとんど行っていない。今日は天気もよかったのでロンドンへ行った。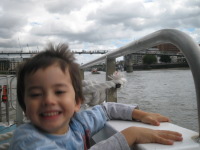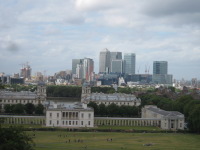 ウォータールーから私の勤務地近辺のテートモダン辺りまで歩いた。途中OXOタワーの近くでテムズ川を見ながらサンドイッチで昼食。引き潮だったのでBanksideではアラタと川岸に下りて少し歩いた後、テムズクリッパーでグリニッジへ。天文台の丘からの眺めはいつ行っても好き。


My mum has come to England for a couple of times since Arata was born. But she, and my dad, hadn't visited me at all in the previous 8 years after I started to work here in 1996. To start with, they don't have much interest in the U.K. On top of that, they are usually too busy with their hobbies, and works, before they retired completely 2 years ago. I can understand their reasons but compared to the parents of my friends, my family are different!


Although the total number of the days mum has spent in the U.K. since Arata was born is quite big, she hasn't gone around to see England much. I decided to take her to London.


We arrived at Waterloo and walked alongside river Thames. After having sandwiches by the river, we headed for Bankside, opposite to my work and in front of Tate modern. Arata and I got down to the river bank to walk a bit, then got on Thames Clipper to Greenwich. The view from the Observatory hill is spectacular and I always love it.