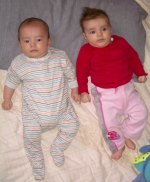 昨日はSteel Lane Clinicのベイビーマッサージに行った。ヘルスビジターの開催の1時間の集まりで、お茶やお菓子代として40P(80円)。マッサージをみんなでするのは最後の15分ぐらい。あとは他のママさん達とおしゃべりの場。


赤ちゃんを裸にして、オイルでマッサージするのだが、仰向けでマッサージしている時、床に座っている私の太ももが生暖かくなってきた。ひゃー、おしっこしちゃった。呆然としている私の足めがけて、きれいな弧が描かれている・・・。アラタにはしょっちゅうやられるから、おむつを替える時も速攻でやる。だから、「えー?赤ちゃん、裸でおしっこしないんですか?」と開始前に聞いたのは私。ヘルスビジターさんは、「心配するお母さんに限ってやられるのよ。」


うつぶせに寝かせてマッサージさせるのも大変だった。アラタと同じ月齢の赤ちゃん達はみんな気持ちよさそうにしてるのに、アラタだけうんうんうなっている。一生懸命首を持ち上げようとしているのだと思った私は初めは無視していたが、真っ赤になって泣き出してしまった。どうやら頭を横に向けて床に横になることができない?みたいで真下を向いたまま苦しんでいたのだ。慣れていない赤ちゃんは泣くそうだ。もう少し家で腹ばいにさせてあげないとね。


今日は久々にゴルガの所に遊びに行き、モニカちゃんに会ってきた。約5週間アラタよりお姉さんで、一ヶ月前に会った時はアラタはすごくちっちゃく見えたが、かなり追いついてきたんじゃないかなあ。


We went to Steel Lane clinic to attend a baby massage group yesterday. It's a 1 hour session and only 40P including sweet and tea. The group is run by health visitors. We do massage in the last 15 minutes, and the rest of the time is rather socialising time.


We give baby massage using oil. When I was giving Arata a nice shoulder massage, I suddenly felt a warm sensation on my right thigh. Bloody hell! Arata is peeing!!! He was making such a nice arc to my thigh!!! Arata often pees when we change his nappies, so I'm always very careful and change nappies very quickly. Because of this, I was a bit worried and even asked a health visitor, 'Are we going to take off baby's clothes? Are they not going to pee?' at the beginning of the session. Well, she said after Arata peed, 'When the mum is worried, baby senses it!'


Putting Arata on his stomach and giving back massage was also a problem. He wasn't used to be lying on his stomach and he could not tilt his head to the side to rest on the floor. He kept putting his face straight down to the floor and started to cry in the end. Other same weeks old babies were all enjoying massages but Arata didn't. We have to put him on his stomach more often to let him practice.


We went to Gorolana's flat this afternoon. Her daughter Monika is 5 weeks older than Arata and when we first met her about a month ago, Arata looked so small. But he's definitely catching up.