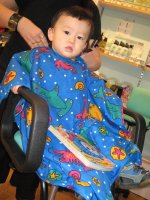 ギルフォードのトロッターズの子供用ヘアサロンへタカラを連れて行った。

アラタが初カットしたキングスロードのトロッターズ

同様、水槽がありました。アラタは激泣きだったけど、タカラはへっちゃら~。って思ったら最後の5分だけだめだった。初カットで切った巻き毛つきのファーストカット証明書をもらった。


前髪も横髪も同じ長さに切っちゃってたから、頭の半分だけ短くて、残りが長いから変だった。「ダンナが前髪切ったらこんなになっちゃったの、どうにかしてください」って言うと、美容師さんは、「おばあちゃんがこうやっちゃうってことはよくあるけどねぇ」と同情してくれました。すっかり大人っぽくなったタカラ。でもやっぱり長い方が断然かわいいよ・・・。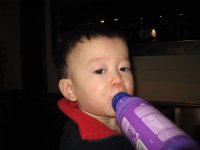 I took Takara to children's hair salon at Trotters in Guildford.

Arata had his first cut at Trotters in Kings Road.

Both salons have a fish tank in front of the chairs to look at. Unlike Arata, who was crying all the way, Takara was fine.... till the last 5 minutes. He had a 'first hair cut' certificate with a set of his first curl.


After Jason's cut, the half of Takara's hair was very short, because he cut not only front but also side hair to the same length, and the rest was long. When I said, "His daddy cut his front fringe so short... can you fix it?", the hairdresser said, "It's often a grandma who cuts children's hair so short." She understood my feelings and did it nicely! Takara looks very mature now. Personally I prefer him with longer hair, though.