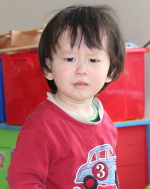 教えたわけでもないのにタカラはキス(口と口です!)が好き。既に10ヶ月の時にルーシーに迫っている

証拠写真

もあるし、気が向くとキスしに来る。寝る前にはみんなに必ずキスをして、朝は先に目覚めたタカラの「マンマ!」の声に目を開けると、ベッドの上に座ってニコ~っと笑顔、そしてキスで起きざるを得ない。


ついこの間、Jasonがナーサリーにタカラを迎えに行くと、保母さんが「アクシデントフォームにサインしてください。」アクシデントフォームは、子供の怪我などの記録で、保護者が説明を受けてサインする。何のことかと思ったら、「女の子にキスしようとしたら唇を噛まれた」ということだった。ちょっと唇が腫れていました。


ナーサリーに迎えに行くと、女の子とカドル(抱っこ)していることもたまにあるらしいので、どうやらタカラは外でも堂々と気に入った子に、キスして抱き付いているようなのだ。


We didn't teach him but Takara likes kissing, of course, mouth to mouth!

(I captured the moment he kissed Lucy when he was only 10 months old.)

Whenever he feels like, he comes to us to kiss. He wakes up first in the morning, he then sits on bed and says, "Mammaaaa." When I open my eyes, he smiles back and comes to kiss me. I have to get up!


A couple of days ago, when Jason went to nursery to pick him up, he was asked to sign "accident form." It's a record of any accidents and after carer explains us what happend, we give them acknowledgement. The carer said to Jason, "When Oliver tried to kiss a girl, he was bitten his lips!" Surely, his lips were a bit red and swollen.


Jason has witnessed Takara cuddling a girl at nursery as well. We are now sure that Takara openly cuddles and kisses girls in public!